Products & Services:
KosmodeHealth has a portfolio of proprietary 3D printed PPC bioscaffolds. The portfolio consists of Polycaprolactone (PCL) and PCL & Plant Protein Composite (PPC) scaffold. Each bioscaffold is 3D bioprinted in 24 layers at 400μm,200μm,100μm pore sizes. The scaffolds are suitable for 3D cell culture, tissue engineering and regenerative medicine applications.
KosmodeHealth's unique value proposition lies not only in PPC scaffolds but also in our ability to customize. In addition to the scaffold portfolios, we can customize the formulation of plant composite bioink and customize the 3D bioprinting of scaffold tunable to the required specification of different cell types and biomedical applications. We are therefore well placed to provide the following services:
Customized development of PPC bioink for:

different bio-printers and
for specific biomedical applications

Customized 3D bioprinting of bio scaffolds to required specifications for:

Therapeutic applications e.g. wound dressing with controlled-release of medicine embedded in the scaffold
Tissue engineering applications
Regenerative medicine applications
3D Cell cultures for drug discovery and development
Tumor tissue model for cancer research
| | |
| --- | --- |
| Customized scaffold printing with 3D Electrohydrodynamic Printer | SEM images of scaffolds morphological printed by PCL and PCL/Gliadin inks |
PCL-zein bioink provided scaffolds with better cell affinity for 3D cell culture application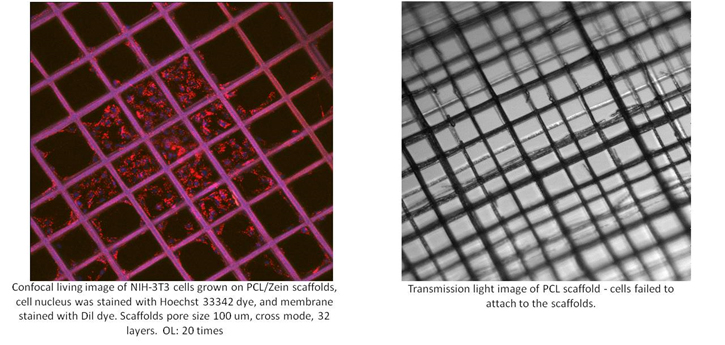 KosmodeHealth is a service provider that thrive on solving customers' problems. Challenge us with your problem statements and we will take a problem solving approach to help address your needs.